Tammy Maggio Retires After 42 Years at JL Clark
January 15th, 2022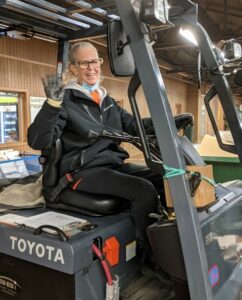 It was a memorable day for Tammy when she started her career with JL Clark on June 14th, 1979.  This may have been a new start for Tammy, but JL Clark was not unfamiliar to her or her family.  Tammy had a grandmother, aunt, uncle, and a handful of other relatives who have worked for the company – Including the Lancaster division! As a matter of fact, Tammy met her husband, Jim, working at JL Clark.  He also retired from JL Clark after 42 years of service with the company.
Throughout her years here, Tammy has worked in several departments, having started as a machine operator, and moving to other various roles such as: material handler, coil line helper, strapper, receiver, and even on occasion was brought to the plastics division to help during some slow times.  Though Tammy has worked in many departments, she finally found her home with Shipping and Receiving where she has been for about 20 years.
Tammy is looking forward to spending her retirement with her husband and hoping to take an extended trip to Florida.  She has made many friends and has enjoyed working with the people here at JL Clark.  As a final message from Tammy, she would like to wish everyone at JL Clark good luck.  She will be dearly missed by all of us here at JL Clark, and we wish her the best as she moves onto this new chapter of her life.