Mel Smith Awarded Decorator of the Year!
October 10th, 2022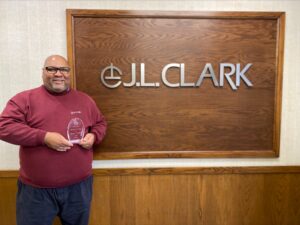 J.L. Clark is pleased to announce that Mel Smith was selected as a 2022 Metal Decorator of the Year by the International Metal Decorating and Packaging Association (IMDPA). Mel has been in the metal packaging industry for 43 years, began his career as an oven-tender and worked his way up to a top pressman and coater operator. He is currently the Lithography supervisor at J L Clark. Mel's subject matter expertise in metal decorating printing and coating is unsurpassed. His diligence and his impeccable execution of exacting standards assures exceptional quality exceeding both client and company demands.
Mel always does more than his job requires. His warmth and enthusiasm make him a go to person for new and old employees alike. Mel goes above and beyond to act as trainer and mentor and share his invaluable printing knowledge to those who work with him. He has a genuine affection for his work and actively seeks out future candidates for work in the metal decorating industry. Mel is an invaluable asset to our company, clients, his colleagues and to the metal decorating industry.
We could not be prouder of our colleague, Mel Smith, for Metal Decorator of the Year.