In 1900, John Lewis Clark had a hardware store, and patented an improved flue stopper, the Gem Flue Stopper. He spent $70 for equipment, $45 for dies, and $25 for a secondhand foot-powered punch press. Because he was dissatisfied with the current lithography available at the time, the company began to do its own. After punching out the flue stopper, there was waste material left over, and, also, not enough volume to run the punch press full time. This gave Clark an idea, and so began the Gem ointment boxes, which were small and produced from the leftover metal from the flue stoppers. A wise use of resources.
The J. L. Clark Company has been busy over the years making products for industry. During World War Ii, the company produced gas masks, rifle clips, M-1 rifle magazines, and flashlights.
Over the years, products that many of us may have used include spice tins–think McCormick's pepper, Johnson & Johnson plastic bandage containers, Hallmark containers, the Duracell alkaline battery shells, and dispensers for double-edged razors. Just think of all the items we may have handled, little knowing that they were made in Rockford!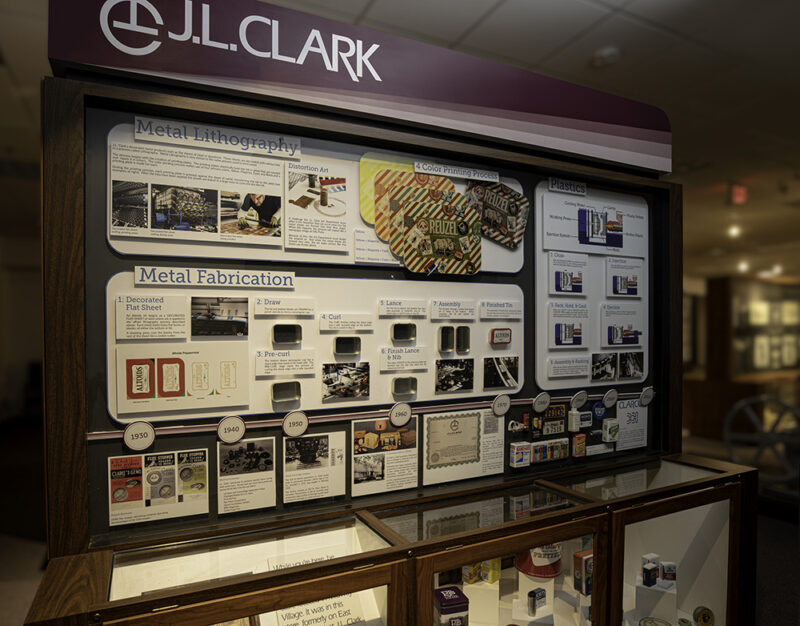 If you are interested in learning more about our company's history visit our display at Midway Village!