Advantages of Metal Packaging
Has a premium look and feel that stands out from other packaging materials
Multiple decoration options depending on order volumes and requirements:
High quality graphic designs can be printed directly on the metal for higher volume orders
Glossy or matte finishes
Opaque or transparent ink
Embossing or debossing
Multicolor labels can be applied to solid color tins for lower volume orders
Can be recycled infinitely, giving it an exceptional sustainability advantage
Advantages of Plastic Packaging
Can be molded into a wide range of shapes and sizes with distinct decoration
Molded in opaque or translucent colors to fit brand characteristics or to showcase the products inside
Option to decorate with high-quality graphics via adhesive or in-mold labels
Option to incorporate complex closures, such as dispensing doors and child-resistant or tamper-evident features, that aren't possible using other materials
Often less expensive to produce than other packaging materials
Known for its durability and resistance to impact, moisture, and chemical reactions
Advantages of Plastic & Metal Hybrid Packaging
Hybrid packaging combines the strengths of both metal and plastic allowing the perfect mix of material properties, rigidity and flexibility, and decorative characteristics to fit your unique functionality and sustainability needs.
Custom Metal & Plastic Packages
When it comes to packaging your products, a custom package provides a host of benefits that can significantly enhance your brand and boost sales. Custom packages forge an emotional connection with consumers, instilling a sense of premium quality and value that sets you apart from competitors. These distinctive packages become recognizable symbols of your products and brand identity, leaving a lasting impression on customers.
Anatomy of a Tin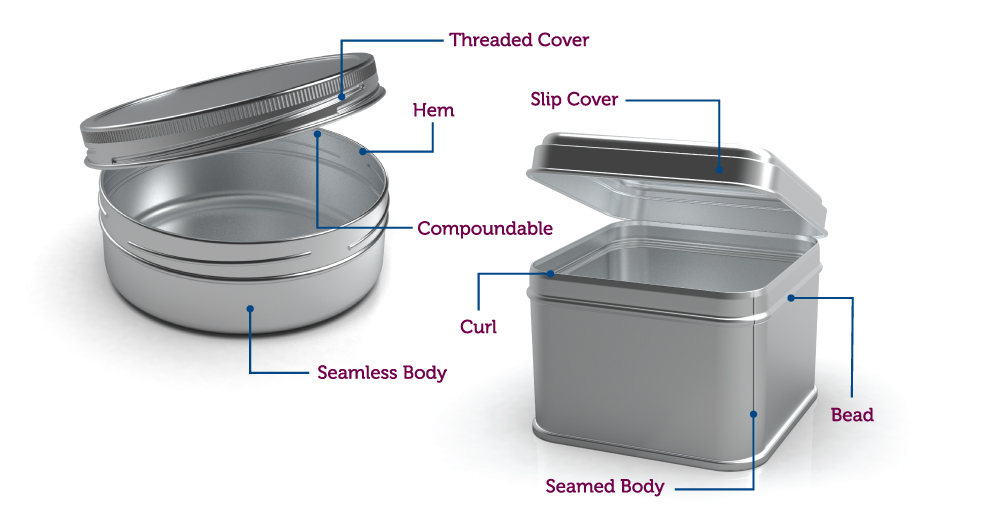 User Guide
Body
the base of a container, without a cover, that holds the packaged product
Seamless body: constructed by stretching the metal to create a container body; also known as a drawn tin
Seamed body: composed of two or more separate parts that are seamed or crimped together to create a container body
Cover
the packaging's lid or closure
Slip Cover: cover is held by a tight friction fit, and is removed by sliding the cover off
Threaded cover: cover is retained by threads, and is removed by twisting counterclockwise
Hinged cover: cover is attached to body and pivots open and closed
In metal packaging, this is made using interlocking features or by the addition of a wire
In plastic packaging, the hinge is molded into the part
Curl
the area of a tin where the raw edge is rolled inward to provide a safe, finished edge
Hem
the area of a tin where the raw edge is folded and flattened to provide a safe, finished edge
Bead
an outward- or inward-facing ridge around the perimeter of a tin that can be used to improve grip
or add rigidity to the container
Fill Capacity
the practical usable capacity of a container, measured in fluid ounces or milliliters
Deboss(able)
structure feature to showcase branding, text, or artwork that is recessed below the surface
Emboss(able)
structure feature to showcase branding, text, or artwork that is raised above the surface
Compoundable
compounds can be added to the container to provide better sealing, lower oxygen intrusion, or reduce moisture loss
Closure Types
Slip Cover Round Tin Products
Slipcovers are easy to open
Tins are available in solid colors
for use with labels
Can be decorated in multi-colored prints, including high quality graphics and finely detailed text
Threaded Cover Round Tin Products
Threaded covers provide a tight fit
Tins are available in solid colors
for use with labels
Can be decorated in multi-colored prints, including high quality graphics and finely detailed text
Square & Rectangular Tin Products
Tins are available in solid colors
for use with labels
Can be decorated in multi-colored prints, including high quality graphics and finely detailed text