J.L. Clark Wins Prestigious 2011 Illinois Governor's Sustainability Award
January 31st, 2012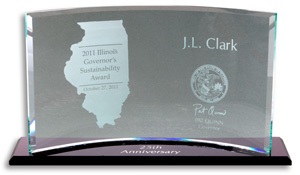 Specialty packaging manufacturer J.L. Clark has been awarded a 2011 Illinois Governor's Sustainability Award, adding to an impressive array of recent local, regional and national awards the company has received for its sustainable products and practices.
J.L. Clark was one of just 25 Illinois companies and organizations to be honored for their significant achievements in protecting the environment, helping sustain the future and improving the economy. Among the most notable of the J.L. Clark's sustainability initiatives was its company-wide recycling program, which diverted some 70 tons of waste from landfill in 2010; an upgraded lighting project resulting in a carbon footprint reduction of more than 84,000 kW hours a year (the equivalent of saving 80 acres of forest); and the installation of new equipment and processes reducing annual natural gas usage by 30%.
"It's gratifying to be recognized for the hard work being done by J.L. Clark and all its employees to minimize our environmental impact," says J.L. Clark President Phil Baerenwald. "We have taken enormous strides transforming our facilities, our operations, and our business practices so that we are now among the most 'green, clean' companies both in our industry and in the surrounding area. We are also well on our way to reaching another significant sustainability milestone – zero waste to landfill."
Since 1987, the Illinois Sustainable Technology Center (ISTC) has presented Governors awards to organizations in Illinois that have demonstrated commitment to environmental excellence through outstanding and innovative sustainability practices. "These businesses and organizations have shown that it is possible to create and maintain conditions under which people and the environment can exist in productive harmony, and fulfill the social and economic requirements of present and future generations, " said Manohar Kulkarni, ISTC Director.