J.L. Clark Wins 3rd Illinois Governor's Sustainability Award for Continuous Improvement
November 20th, 2014
Specialty packaging manufacturer J.L. Clark has been awarded a 2014 Illinois Governor's Sustainability Award. J.L. Clark was one of just 24 Illinois companies and organizations to be honored for their significant achievements in protecting the environment, helping sustain the future and improving the economy. Sustainability is rooted in J.L. Clark's history and continues to be an important part of their Strategic Position.
J.L. Clark's innovative, eco-friendly packaging, process and business systems promote social, economic and environmental well-being. Their sustainability initiatives are grouped into four major categories: Land, Air, Sea and Mind. These divisions ensure that the company pursues initiatives that encompass the full definition of what it means to sustain our society, economy, and environment far into the future.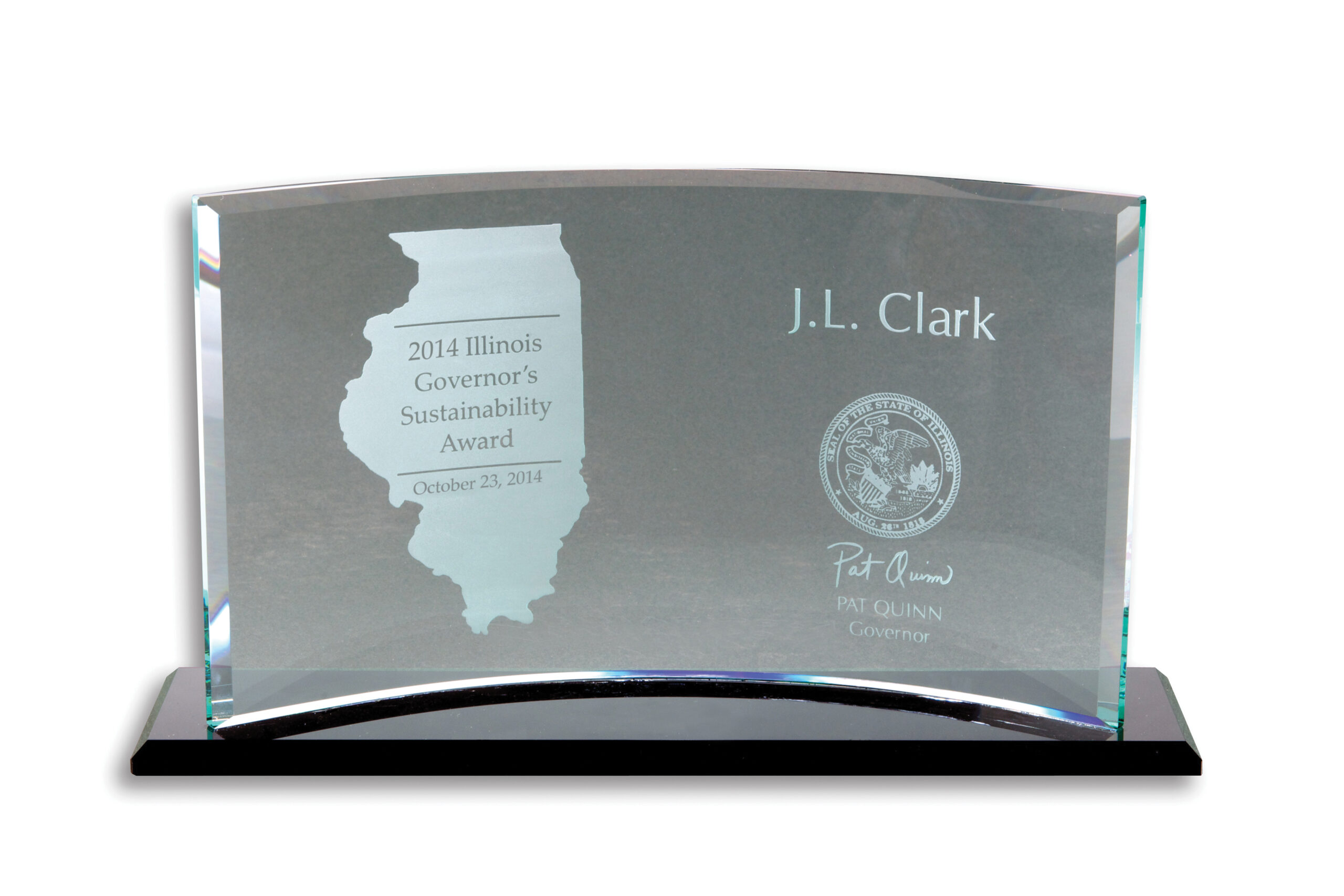 Since winning the award in 2011 and 2013, J.L. Clark has realized significant additional energy savings and sustainability improvements. Recent projects included: a new compressor for their Tin Stores Department and new windows in their Metals facility, relocation of three injection molding presses and an assembly line to Plastics, lighting replacement program, purchase of a new Toshiba Press and continued improvement on their zero waste to landfill program. In being good stewards of the environment and community, employees have participated in The Great American Clean Up, collecting aluminum cans and donating them to their "adopted" school; Kishwaukee Grade School for their recycling project.
Since 1987, the Illinois Sustainable Technology Center (ISTC) has presented Governors awards to organizations in Illinois that have demonstrated commitment to environmental excellence through outstanding and innovative sustainability practices. "The linkage between sustainable policies and success in our businesses, our organizations and our communities have never been stronger. We are proud to call attention to these champions of sustainability who help lead the way by improving our quality of life through their responsible stewardship of people, profit and planet." said Kevin C. O'Brien, Ph.D., ISTC director.